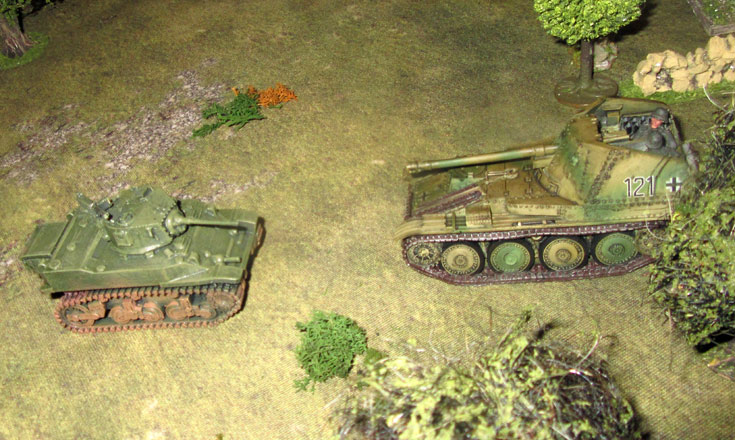 Virtual Tanker – Coriano 1944
---
The Second World War, What a Tanker!, 1/56 scale (28mm)
This was a first. Orkney might have the lowest Covid incidence per population in the UK, but we're still saddled with Tier 3 restrictions. That means no face-to-face gaming. So, Gyles and I decided to try something – a game using Skype. I moved my laptop into the big kitchen, where we usually game, and set up terrain on the dining table. The idea was to use the laptop to give a general view of the table, and then use a phone with a different account to do the video call. All in all it worked pretty well.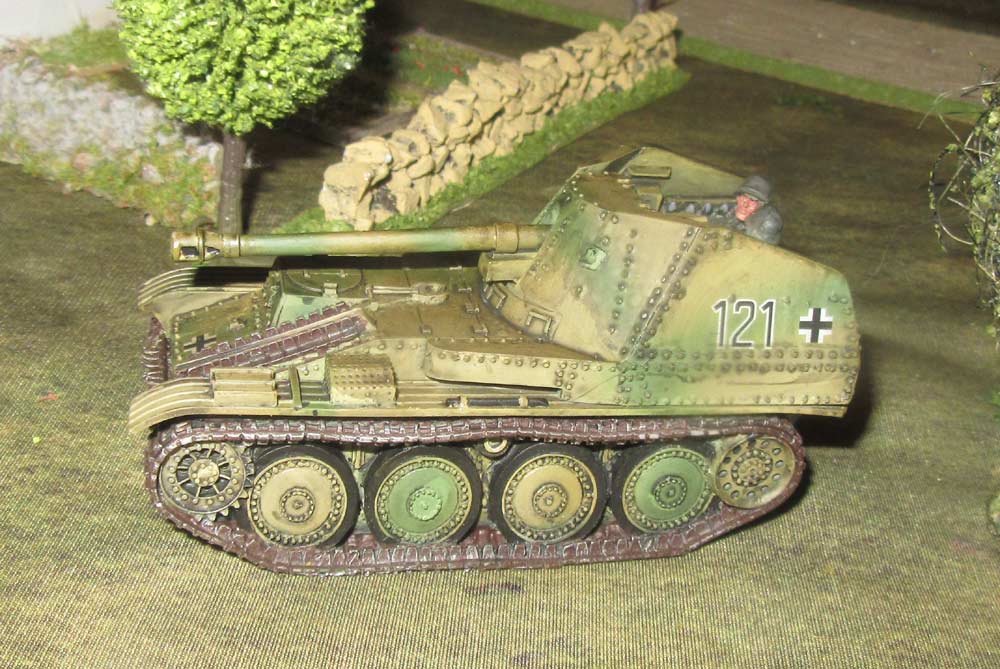 We decided to go with What a Tanker! from the Too Fat Lardies. I find these rules a bit silly, but they're also incredibly simple. Better still, with just one tank a side and no infantry skulking in hedgerows, this was a very easy game to run. On impulse I decided to set the game in Italy in late 1944, somewhere near Rimini and the Adriatic coast. My choice of tanks was less impulsive – apart from a Tiger 1 and a Marder III all my German tanks are away getting a respray. So, we settled on pretty basic kit – a Marder III on one side and a M5A1 Stuart on the other.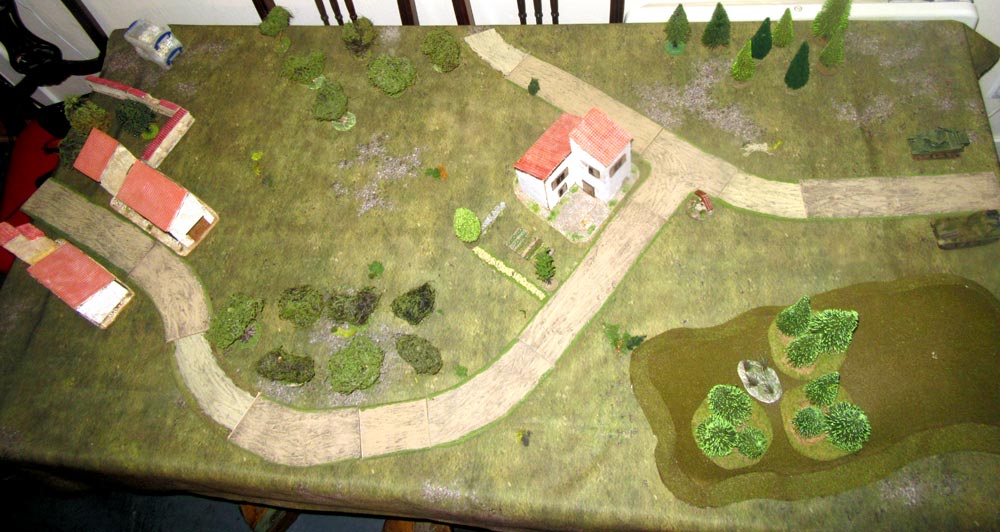 The game was set up in my kitchen, so I had a perfect view of the table. The challenge was to give Gyles as good a view as we could. that was why the laptop was set up to give a clear overall view of the table – a bit like the view above. Then, when we needed to zoom in, or show things from a different angle, I would use the video on my phone. On his end Gyles was running it all from a laptop.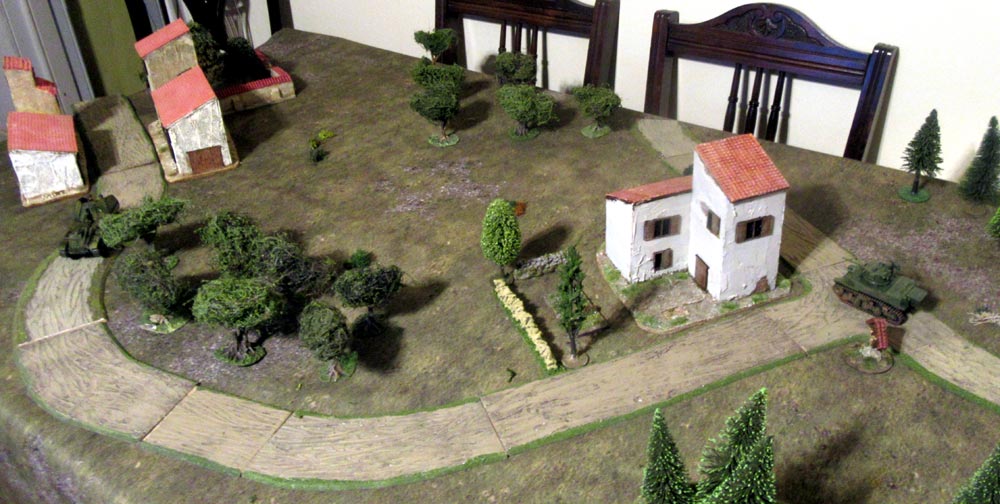 Gyles started in the outskirts of Coriano, while I was on the far side of the table. After winning the initiative Gyles began by driving his Marder up the road, until it was screened by an olive grove. I drove down the road to the T-junction beside a tall two-storey house. Gyles now had a clear shot at my left side, and fired a shot. It missed. I responded by turning hard left and closed the range.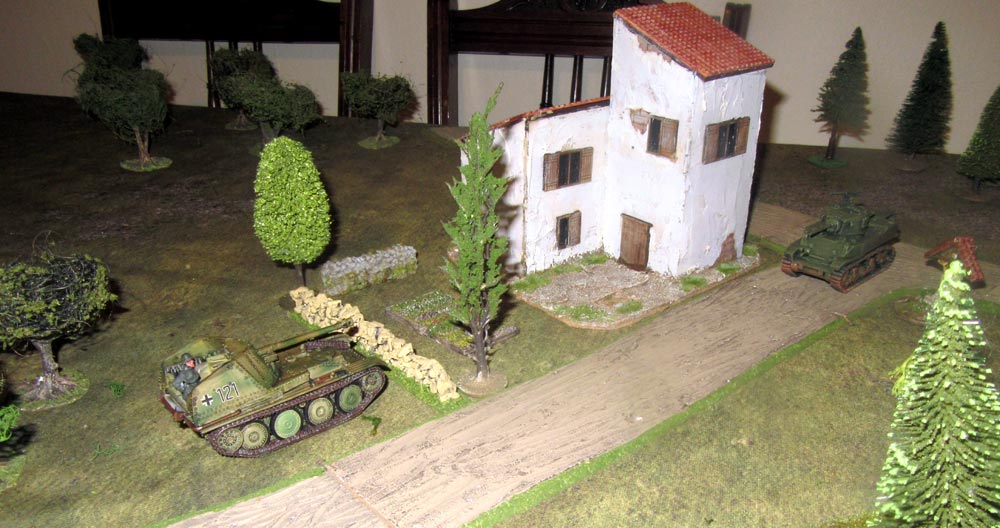 I got to fire, but all I managed to do was to drive the Marder back a little. Gyles then headed to the left, to get behind a stone wall. I fired and missed, then veered off to the left, trying to work around the side of the wall. As the next German roll was a bit useless, I got to fire again, and the shot clanged off the side of the Marder. Gyles then drove it around the wall, to take up another hull-down position facing me.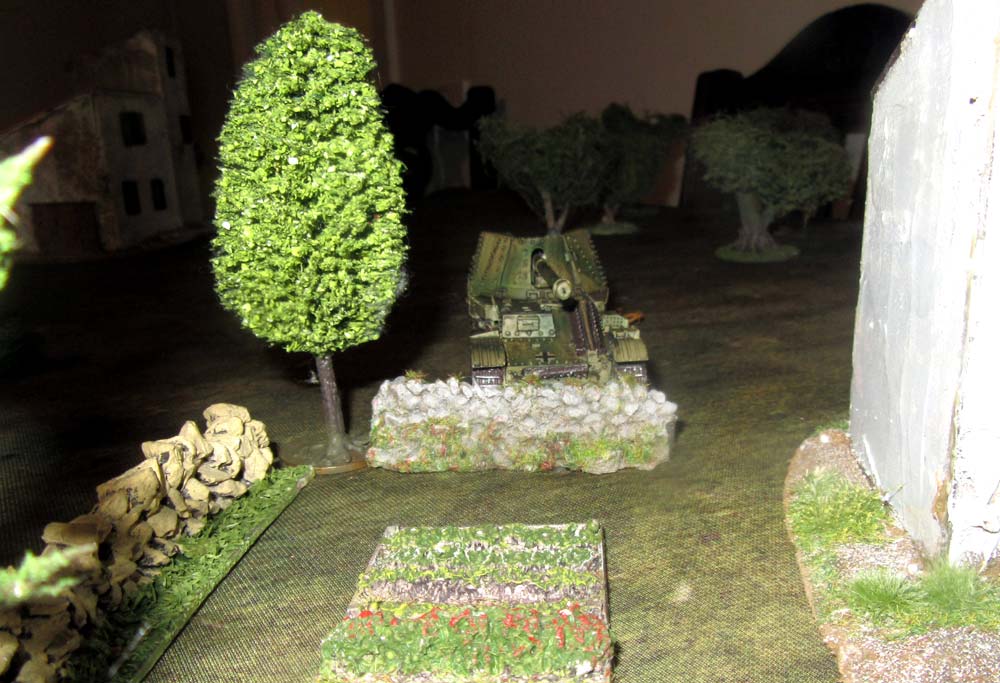 For the moment, Gyles held all the cards. I turned about and headed back to the junction, before nipping behind the building. One thing about Stuarts – they're nippy – you can turn a command dice into an extra move dice, which is handy when you want to get out of trouble. So, that left me tucked behind the two-storey building, where I was safe – for the moment.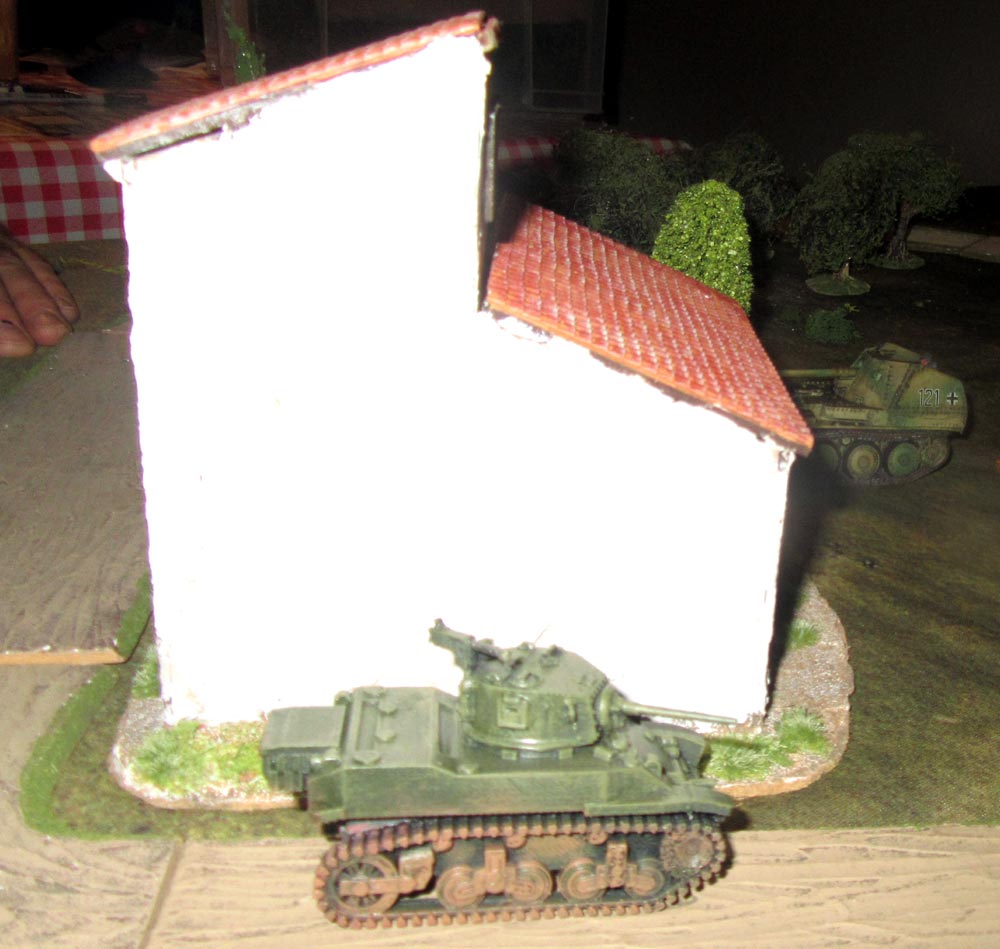 This is exactly why we needed a mobile phone. Gylers couldn't see me on the main laptop view, so I was able to use my mobile to show him where I was hiding, then look down from above, so he could see both AFVs. Gyles didn't manage to do much the next turn apart from swivel his Marder round to the left. It was just as well. The next turn I popped out from behind the building and fired. This time I hit him a glancing blow, which meant he temporarily lost one of his six command dice. It left me wishing I had a bigger gun…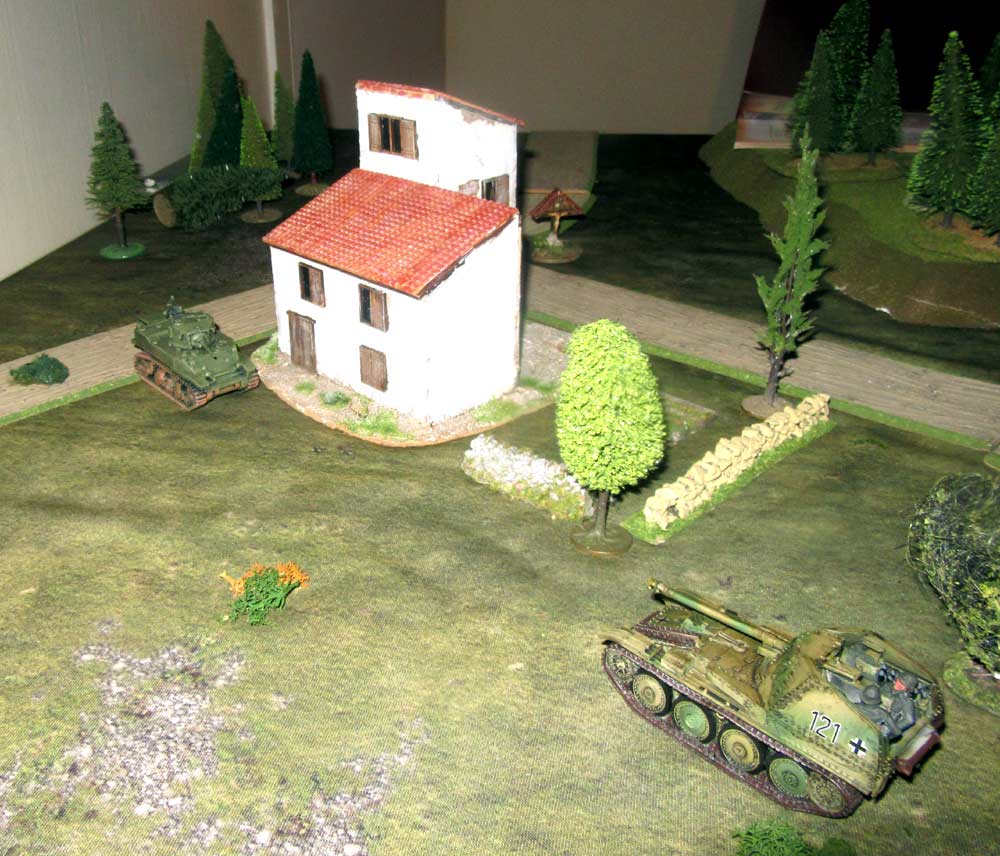 Inevitably, the Germans fired back, and caused a loss of a command dice on me. On my turn I closed the range, until we were briefly toe to toe in the open, just a few yards apart. We both exchanged shots, with me losing two more command dice, thanks to a solid German hit. I was forced to back off, and decided to reverse back even further. By now though, we'd been playing for almost 90 minutes, and we still hadn't seen off our opponent! So, we decided to give it another turn or two, then call it a day. We exchanged shots, and once again I was hit, and lost two command dice. I managed to hit the Marder too though, and Gyles lost two dice himself. So, at that point we stopped the game. I suppose both sides had run out of enthusiasm, ammunition or both!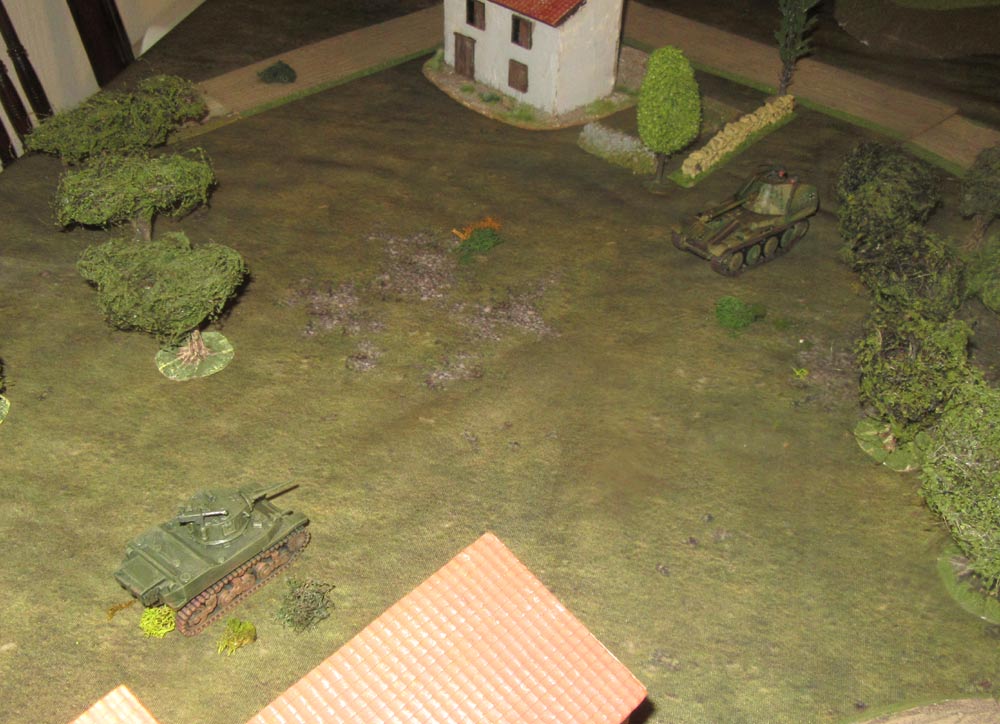 The AFVs were pretty well-matched. As a tank destroyer the Marder (worth 11 points) could convert any spare command die into an Aim one. The Stuart (10 points), as a fast tank could do the same to gain another Move die. What saved my Stuart was its better armour (5 as opposed to the Marder's 4), but the Marder certainly had the edge in firepower, with a strike value of 7 as opposed to the Stuart's 4. We agreed to try this again next week, and then, once we've perfected the whole Skype gaming thing we'll open it up to other gamers in the Orkney club. So you see – lockdown and no home or club visits doesn't necessarily mean you can't get a game in!