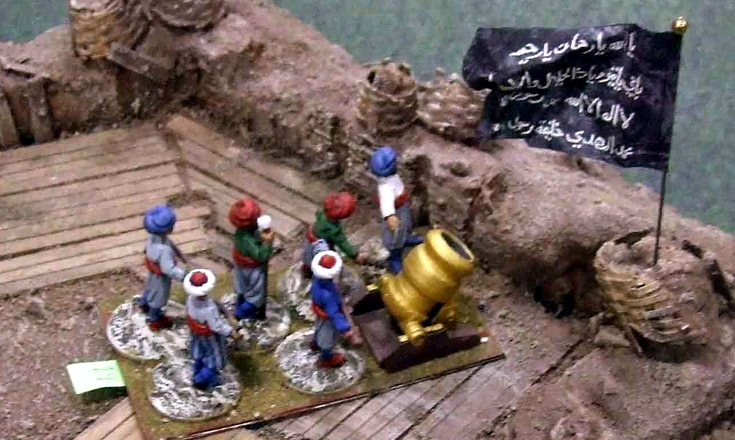 The Siege of Vienna, 1683
9th July 2010,
Comments Off
---
Misc., Homegrown rules, 28mm
The theme of Historicon this year was "Pike & Shotte", and so appropriately enough the first of the two games I played there was not only "on message", but the Siege formed the cover poster for the show. This particular multiplayer game was run by the charming Peter Hess. I know Peter of old, when he used to be a lawyer for the treasure hunter Mel Fisher. He's just as nice a guy now (despite being a lawyer), but more laid back – the Key West influence. That's him below, in the T-shirt. As a result he's stopped pushing "DBR" and wrote his own far more enjoyable rules instead, which had a public airing at the convention.
The game was fought over two tables. Unfortunately my ones of the siege itself didn't come out. Suffice to say that over on that table the dastardly Turks were repulsed from the walls, after a hard-fought fight in the breach.Meanwhile, our table dealt with the relief attempt by the Imperialists and Poles. Facing us was a motley assortment of Turks, dug in and ready for all we could throw against them. While the scenery wasn't particularly breathtaking in this game, many of the figures were, and my own contingent of Saxons were a pleasure to command.
The other great thing about this sort of multi-player game was the characters of the players themselves – the guys commanding the Poles went straight for it, while us Imperialists achieved the same ends through firepower and push of pike. On my left the elderly but sprightly John tore the Turks apart around a village anchoring their right flank (that's the Turkish player in the picture below, head in hands as the old chap does his thing)!
On my right Mike from Historical Miniature Gamers Society (HMGS) weighed into the fray in support of the Poles. Things in my central sector were a little dull, so after seeing off a Turkish light cavalry attack I launched my own horse in a madcap charge, which – much to my surprise – drove the Turks from their hilltop defences. All in all it was a great way to spend an evening.
I had to make the decision whether to play the game or enjoy a fancy dinner with the Osprey Publishing crowd and HMGS supremos. I made the right choice – this was a wargaming opportunity not to be missed. Many thanks to Peter and the players for providing me with such a fun game to play.