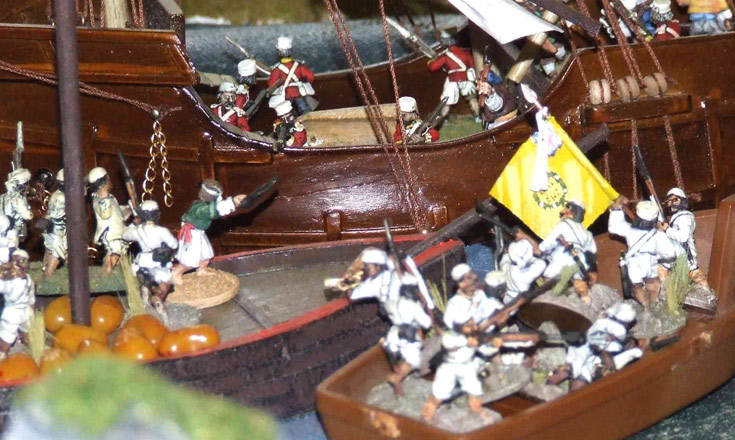 Surat Bay, 1700
27th April 2007,
Comments Off
---
Misc., Pirates, In the Heart of Africa modified, 28mm
Every so often we run a ridiculously big all-day multip-player, usually in the breakfast room of Hugh Wilson's guesthouse in Edinburgh. It was out of season, so we could indulge ourselves.  This time we brought out our pirates, but instead of setting it in the Caribbean, we opted for the coast of India in 1700, around the time of the "Red Sea Rounders" like Henry Every, Edward England and Captain Kidd. Surat – between Goa and Madras – was an East India Company outpost, but the coast was also infested by pirates – both Indian and European.
Everyone commanded a faction – the East India Company, the Portuguese, the local Maharajah or Indian rebels, and everyone commanded a ship – Indiaman, Indian Treasure Ship, Privateer, or both Indian and European pirate ships.  The result was completely silly, utter chaos, and great fun.
The Gujarat rebels attacked Surat, the settlement of the East India Company, but were repulsed when they stormed the breach. The Maratha rebels attacked the local Maharaja's stronghold, supported by their Portuguese allies, but neither faction really got anywhere. The exception was the all-woman crew of the Portuguese privateer Esmerelda, which captured and sacked the Maharaja's town.
Meanwhile the Angrian pirate stronghold in the bay served as a base for assaults on the Delhi Merchant (the Maharaja's treasure ship) and the East Indiaman Sweet William, which beat off the Indian pirates only to fall victim to the pirate Dan Tempest, and the crew of his brig the Sultana.
Victory was measured in plunder (well, actually we used gold-coloured jelly beans), and the clear winner was the Angrian pirate king, followed by the Gujarat rebels and their ally Captain Tempest.
Great fun was had by all, and we all swore to swash our buckles again some time soon. For rules we'd cobbled together a set for the occasion which we tentatively called In the Heart of the Spanish Main (a home-grown variant of Chris Peers' In the Heart of Africa rules) which included both land and sea fighting rules.