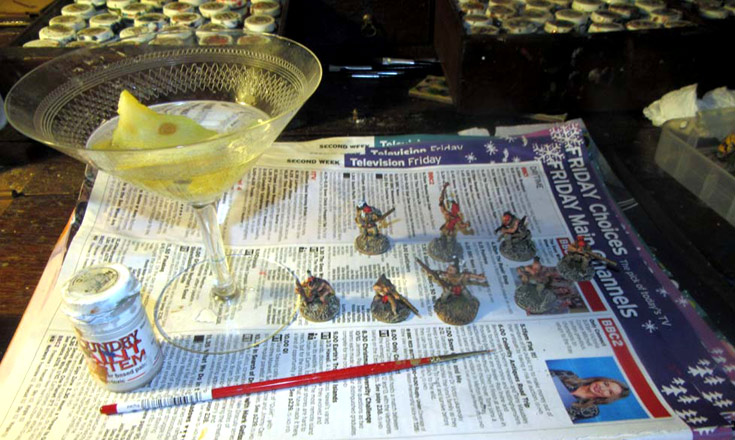 ---
The French & Indian Wars – Update
I know things have been a bit slow lately. I haven't been to a wargame club since mid-March – over four months. No games at home either, thanks to lockdown. So, all I can do is paint, and work on my various projects.
So, here's a little run-through of what I've been up to over the past few months:First off, the French & Indian Wars. I have a couple of hundred figures for this, based on 2-pence pieces. These are 25mm across, which means they're a bit big for lining ramparts, or fitting into earthworks. Two things prompted me considering rebasing this lot. First off, all the figures suffered a little from smoke damage during the fire of January 2019. So, they could all do with a bit of freshening up.
Secondly, I've got used to using sabots, so I can move whole units about. 1-pence bases (which are 20mm diameter) are better suited for this. I've also switched rules sets, from Muskets & Tomahawks to Rebels & Patriots, and I think the larger units and style of game means the latter set work better with sabots. So, I set to, one unit at a time. I also added a couple of new units to my collection.
These aren't the best pictures in the world. Some were even taken on my ancient phone. Still, they give you an idea of what I've been up to. Top: Woodland Indians. Below: Coureur de Bois
Next up, some Rangers:
French Marines: 
The Last of the Mohicans:
British Lights – changed from Gage's with brown jackets to red-jacketed types…
Highlanders – with a change of facings from blue to green…
British Grenadiers – at some point I'll replace these with ones in kilts…
and some of my many civilians…
I did more besides – American provincial troops, French regulars and militia … enough for a whole range of games. I haven't finished yet, but it's all ready to take to the tabletop – as soon as we can start gaming again.