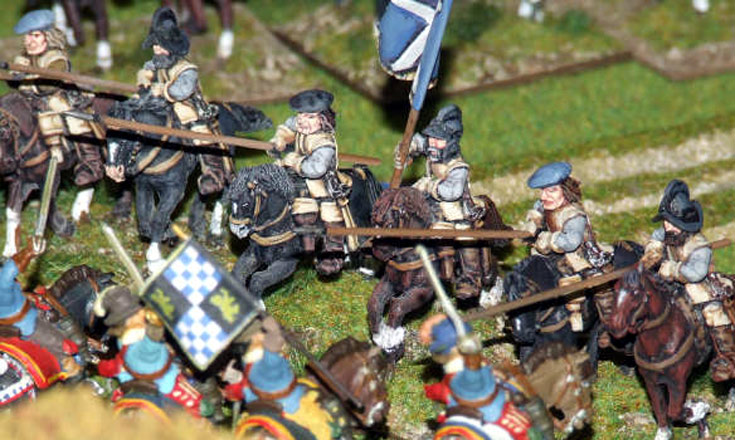 Walton Hall, 1644
9th October 2006,
Comments Off
---
English Civil War, Very Civile Actions, 28mm
First up was another English Civil War game, fought using Dave Imrie's Covenanters (supported by some of my Parlaimentarian horse) and Dave O'Brien's "munchkin" Royalists. I do Dave something of a disservice by calling them "munchkins". They were the first wargame army he ever painted, and still look fine, despite being some 30 years old – particularly after Dave rebased 'em.
However, when you stand his figures next to more modern figures they look like dwarves – or "munchkins". OK, they're also a little dated – with stripped buff coats, regimented foppish hats and poses, and full armour on the pikemen, but that reflects the knowledge of figure sculptors at the time rather than Dave's paint work.
Hell, I was getting my over-sized Bay City Roller-esque flares caught in my bicycle chain back in the late 70's, so I can't speak about fashion! Still, you can see what I mean.The idea was that a small Royalist garrison was holding out in a manor house, and another Royalist force was running much-needed reinforcements and supplies through the cordon of besieging Covenanters.
I guess that puts it around 1644-45. The convoy fought its way up the road, while the Scots (and Parliamentarian horse) came on from either table edge. On the whole the Scots got the worst of the fighting, as the Parliamentarian cavalry and a unit of Scottish lancers were routed, and a Covenanting regiment ridden down by Northern Association Horse
You can see Dave Imrie in the background, wondering why his prettily painted figures are running away. Still, he managed to have the last laugh. The Royalist commanders (Dave O'Brian and myself) decided to sortie from the Manor House to join in the fun – only to have the Scots lancers cut them down to a man. We might have got the convoy through, but we still had a fight on our hands if we wanted to reclaim the Manor House. Unfortunately we had to pack up before we could fight out that particular scrap, and the game was declared a draw. Here are a few pictures of Dave's superbly painted figures… and the other Dave's "mumchkins"!