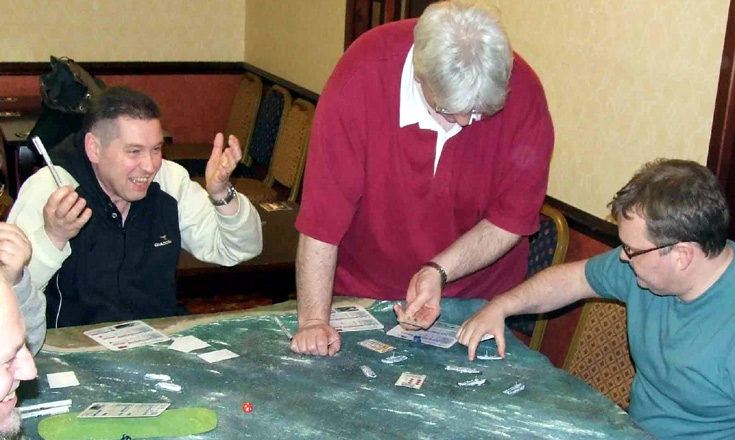 The Lipari Channel, 1943
26th November 2009,
Comments Off
---
WWII Coastal Forces, The Quick & The Dead, 1/600 scale
This was one of those surreal wargaming moments. This week was our club Annual General Meeting, and useful gaming time was wasted by discussions about our annual show (Claymore), the accounts, which charity to support (we opted for Combat Stress), election of office-bearers, changes to the by-laws, and other such necessary but dull nonsense.
That didn't leave much time for gaming, so I too along The Quick and the Dead, a set of card driven rules for Second World War Coastal Forces. The rules claim you could finish a game in 30 minutes. Well, ours were going to take a bit longer, as we had seven players (none of whom had seen the rules before), and 14 little boats on the table. We still managed to finish in within an hour though, even though the whole thing had more of the the air of a multi-player game of Snap than anything else!
Every player was dealt around seven cards, which governed movement, shooting and modifiers (offensive and defensive). Everyone had two boats. There were no turns, and everyone played an "action" at the same time – moving, firing and so on. when you ran out of cards you tested morale, then if you passed you took new cards.
Some players picked up the idea right away, while others were floundering a bit. One player sulked after his opponent blew him out of the water with a perfect hand, while others were continually firing, only to meet a swathe of defensive cards that thwarted their efforts. By the time it was over we still didn't really know what we were all doing, but on the whole people enjoyed the chaotic experience. It certainly lived up to the "fast paced" tag, and it was very lively. We'll try The Quick and the Dead again, although with less players, and more planning!