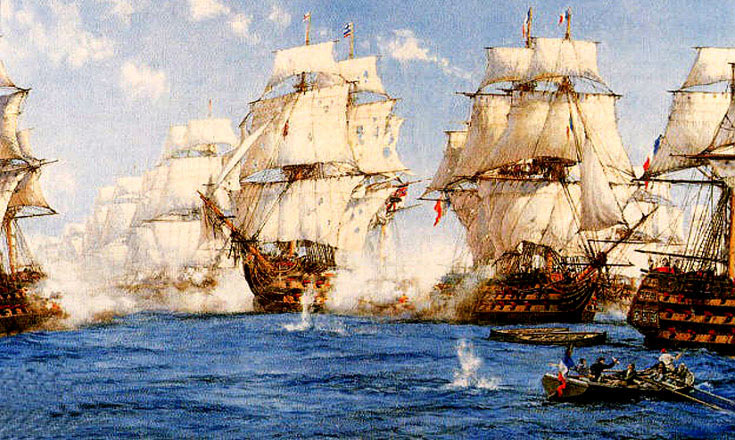 The Age of Fighting Sail – Playing the Period
21st January 2000,
Comments Off
---
I really love this period thanks to the novels of Patrick O'Brian, but the thought of all that rigging always put me off it. Then, along came a new club project. One day, someone suggested refighting Trafalgar using 1/1200 scale ships, and the guys all thought this was a great idea. Better still, some people offered to do the fiddly bits – for money – and so spared the blushes of the rest of us. In my case it was Jack Glanville who stepped up to the plate, and so my matched French and British squadrons were bought, built, painted and rigged. We still haven't got round to fighting Trafalgar yet, but we've played a few smaller games, and we've all had a blast. Inevitably, "the big one" will take place, as soon as we can all agree on a time, a venue and the last few stragglers have finished their ships.

As for rules we use Kiss Me Hardy! by the two Fat Lardies. These were largely the brainchild of Nick Skinner, who came up with a fast and playable way of recreating the vagaries of wind, wooden walls and serried ranks of guns. The result is a rules set that goes a long way to capturing the flavour of the period, and which can be adapted to small frigate actions with only a few ships a side, to large full scale battles like The Nile, Copenhagen … and Trafalgar. I've also bought a bunch of American ships, and a few more British and French frigates, brigs and sloops, so I can explore smaller campaigns – like the one recounted in Patrick O'Brian's The Mauritius Command – or the engagements of the War of 1812, which the same author also covers in his splendid novels. In fact, these smaller games have more legs than fleet actions, as they could be expanded to include amphibious landings, blockades or cutting out expeditions. Nelson's world is at our fingertips.