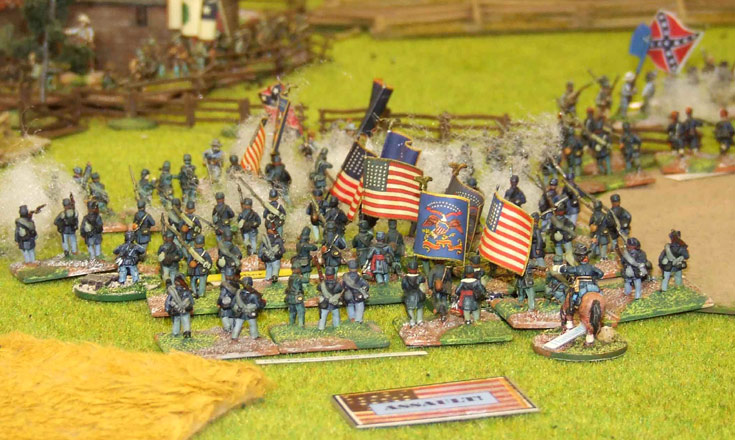 Antietam, 1862
21st March 2007,
Comments Off
---
The American Civil War, Guns at Gettysburg, 15mm
This weekend I was down in Stansted Mountfitchet outside London, taking part in a refight of Hooker's attack at Antietam. It was staged by my wargaming pal Dave "Iron Brigade" Marks, and umpired by Dave Brown, who wrote the rules. That's the best way to avoid rules arguments! I played the part of Dick Ewell, assisted by Nick and Steve, while as Hooker, Pat was helped out by Dave, Sam and the other Steve.
Our Confederates were hard-pressed from the start, as Hooker's men attacked simultaneously from across The Cornfield, and from the far side of the East Woods. Nick – commanding Cobb's Georgians – managed to hold the Yankees just south of the field, while Trimble's brigade almost single-handedly saw off the large blue column's of Wainwright's command.
However, Dave Marks and his son Sam were a bit more successful, grinding down the Confederate right – mainly through the firepower of massed artillery batteries.
Both sides threw in reinforcements – Dave Brown coming down from his umpiring perch to command Hood's Division. However, these didn't achieve much, apart from shoring up the flagging right flanks of both armies.
Although the battle ended in a Confederate victory as we prevented the Yankees from capturing Dunker Church and Mumma's Farm, the truth is in a few more turns our line would probably have caved in under the pressure. There were just too many Yankees .. and Sam's artillery batteries. 
The rules worked a treat. This was my first game with Guns at Gettysburg – the ACW variant of Dave Brown's General de Brigade system, and I'll certainly use it again. Its a regimental set – but its a lot faster than Johnny Reb III – and a useful alternative to Fire & Fury.