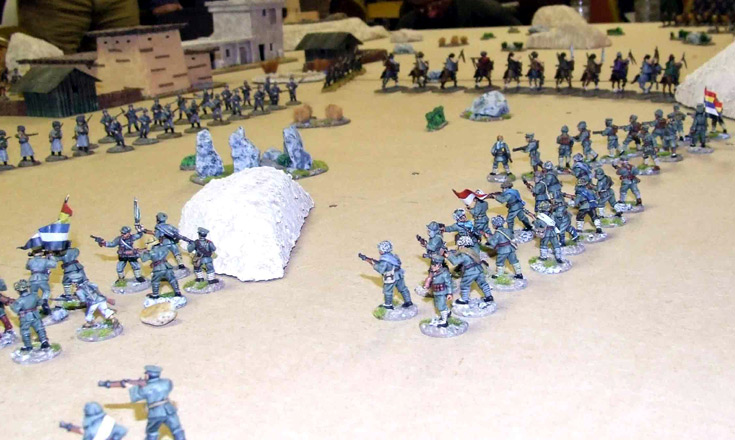 Aksha, 1921
23rd July 2009,
Comments Off
---
The Back of Beyond, Contemptible Little Armies / Back of Beyond, 28mm
We were due another "Back of Beyond" game, and for a change this one was set near the border between Mongolia and North-Western China, rather than in southern Central Asia – our usual "Back of Beyond" region. The game saw a Chinese warlord's army take on a Bolshevik Russian force, which had raided over the border.
Actually, most of the fighting was left to the Bolshevik's Tibetan allies, who proved more than a match for their Oriental counterparts. In the first few turns they ambushed and slaughtered the Chinese army's Mongol cavalry, then turned on the poor Chinese infantry, who were plodding onto the table behind them. These Tibetans are pretty fierce types, despite their outlandish dress. the result was the gradual dismemberment of one wing of the Chinese army!
On the other flank the Chinese didn't fare much better, being met by a solid wall of Russian infantry, backed by machine guns and artillery. The Chinese simply lacked the muscle to dislodge them, and the outcome of the game was rarely in any doubt. A brief flicker of hope came when a Chinese aircraft appeared, but within a turn it was off the table again, and replaced by a Soviet plane, which amused itself by strafing the hapless Chinese as it flew around the tabletop!
In our "Back of Beyond" games the Red Army has an unenviable track record – it rarely wins a game. This time though the game was a Red victory – clearly the Chinese are easier prey than their usual opponents of Whites, Interventionists or Nationalists!
As usual we used the simple but effective Contemptible Little Armies rules by Chris Peers, supported by their Back of Beyond army lists and amendments. these always give a fast, fun and largely unchallenging game – perfect for this kind of rather unusual type of conflict!