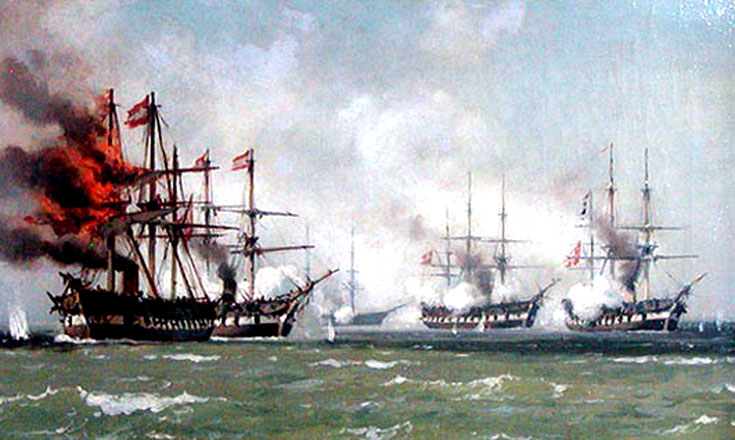 Ironclads – Playing the Period
30th January 2000,
Comments Off
---
Some of the ugliest ships known to man
The mid-19th century was a real transition time for warship design – sail to steam, wood to iron, smoothbores to rifled guns, roundshot to shell – and the American Civil War landed plump in the middle of this naval revolution! While some wargamers dismiss the whole thing as a boring standoff (citing the battle between the USS Monitor and the CSS Virginia (nee Merrimac) as an example), I would argue that the truth was very different.
An ironclad like the CSS Tennessee might have been relatively immune to shot, but she was still forced to surrender at Mobile Bay after being rammed, her guns knocked out and her crew concussed beyond endurance. So, gaming this period is far from straightforward. That's just what you'd expect from a period when the technologies of armour, guns and engineering were all evolving so rapidly. Then you've got all those wooden warships, or cottonclads, or tinclads, or rams. You've got rifled guns, smoothbores and underwater mines. Add to that the human aspect – what was it like to go to war in what looked like a large upturned bath, or a cheesebox on a raft? That's what makes this such a diverse and interesting period – and offers something quite different for naval wargamers.
For years I had a couple of American Civil War fleets –  1/600 scale ships – a mixture of metal Thoroughbred models from the United States and resin Peter Pig ones from Britain (at a fraction of the price).
I then sort of went off the period, and it was only recently I rediscovered it again – with a twist. My ACW kit is now on semi-permanent loan to Bill Gilchrist, whose busy drafting a set of ironclad rules, with a view to having them published by Osprey in a year or two. When I gave him the boxes of ships I kept a few back – the old unarmoured wooden steam-powered warships. They've now formed the core of a new take on the period – matched forces for the Prusso-Danish War of 1864. If truth be known I've always been a little more interested in the Continental Wars of this period, rather than The War of Yankee Aggression, so it sort of makes sense. Bill though, remains firmly grounded in American waters.
Bill's rules are coming on nicely, and we've now playtested them several times. Their working title is Uncle Bill's Ironclad Rules, or Ironclad for short. We tried a few commercial sets before this – most notably  Smoke on the Water, from Canis Publications (available here as a free download ) and David Manley's Iron and Fire, from A&A Games. Bill's rules are completely different. For a start they're designed from the outset as a fast play set, so complications are avoided, and slick mechanisms favoured over long-winded procedures.
I can't tell you too much about them here – its still pretty hush hush, as this will be a commercially available set. However, if you're interested in helping playtest them, then please drop me a line.
The Prusso-Danish War of 1864