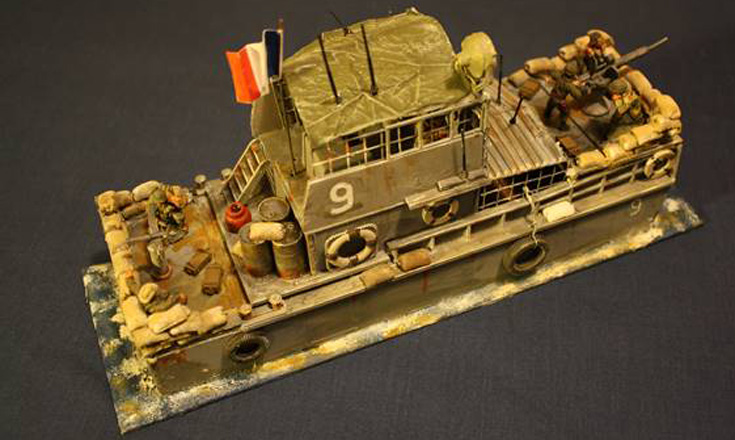 The Black River, Hoa-Binh, 1951
---
The Second World War (French Indochina), Homegrown Rules, 28mm
To entertain us during the pandemic, my chum Bill Cainan (a man with Orkney connections) has sent us a few images from his French Indochina collection.The first are of some of his Dinassault forces – his French riverine kit. Here's what he had to say: 
Five years ago I built about 14 assorted vessels to represent a French riverine Dinassaut Unit. The vessel that I used for the basic LCM3 (which formed the bulk of the Dinassaut vessels) was the 28mm Sarissa model:
SARISSA 28mm LCM3    This is a good model, but too short in length (manufactured to correspond with the MDF A4 sized sheet). It's OK when the model is just being used to represent basic LCM3s,  but when superstructure is added for the Monitor and Command versions, the short length becomes all too apparent.
This year, I took both vessels into drydock for a substantial rebuilt – essentially "stretching"them ! I thought that if the RAF can do it with C130 Hercules planes, I can do it with LCM3s !!  On rebuild, I have added 6" to the length of the Monitor  and 3" to the length of the Command vessel. Here's the stubby LCM Monitor before its refit:
… and here it is afterwards. lengthened and with a more realistic paint job, as well as more "campaign clutter":
Next, the LCM Command vessel. Here's the before picture: 
And the after one, with the hull lengthened by 3″, and a repaint:
Bill says; "The French did sent a battleship to Indochina, but in 28mm scale, I would need to lengthen my wargame table 500-fold !!!" Knowing Bill, that may actually happen some day!
Now, onto his French medical unit. He's sent us pictures of it, with the doctors performing emergency medical treatment:
Is it me, or do they bear a passing resemblance to a better-known American mobile army surgical hospital unit from the same period, only in Korea?  Judge for yourself, folks…
Anyway, that's all from Bill for the moment. I hope he keeps us posted with these updates on his inspirational French Indochina collection. I suppose though, that when he embarked on it, he didn't plan it to be quite as extensive as it is now! C'est la vie.