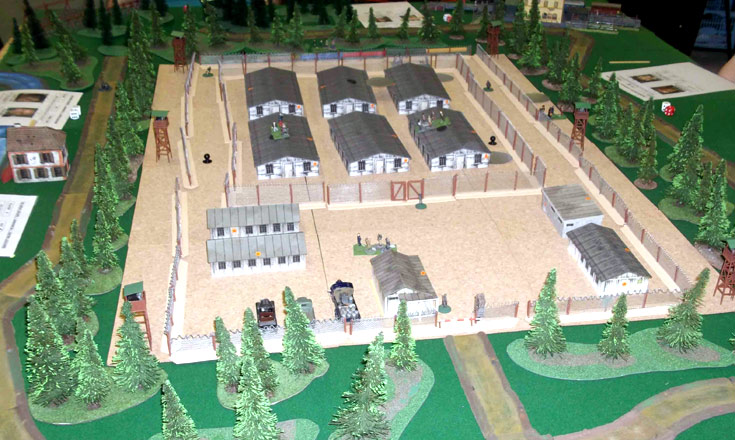 ---
Misc., Wargame Shows, Kirriemuir
I always enjoy going to Targe, the wee show in Kirriemuir, laid on by the "Kirrie" wargames club. Their head honcho Dale Smith has worked wonders in turning Targe into one of the must-see shows of the Scottish circuit, despite the fact that "Kirrie" is a two hour drive to the north of Edinburgh, and 15 miles past the grim sprawl of Dundee. I particularly like crossing the county line, when the sign ready "Welcome to Angus". Yes, I know its the name of the county, but rather childishly I can rarely resist saying "Thank you very much" as I drive by!
These pictures are a selection from the games on display there – the best of which (in my view) was this street fight, set in Dublin during the Irish Civil War. It was quite an ambitious project, and I like the look of the wide Dublin boulevard, turned into a battlefield.
Other games included a novel participation game involving a Hollywood-style breakout from a German prisoner of war camp. a nice little English Civil War battle, which won top prize, and a colourful re-hash of the Boyne game we've seen over the past few years. Another unusual game was the refight of the Battle of Harlaw (1411), a battle between highland clans, fought out in Aberdeenshire. The Aberdeen club specialise in restaging battles from their corner of Scotland, and what appealed here – despite the lacklustre terrain – was the troops – a well-researched collection of troops representing late medieval lowland forces, highlanders, cavalry and Scottish nobles.
The only drawback to Targe is the speech-making. This interminable bru-ha-ha goes on for the best part of an hour, which gets in the way of the fun, and prevents you getting on with the serious business of buying lead. Still, despite this, its a great little show, and well worth the trip.