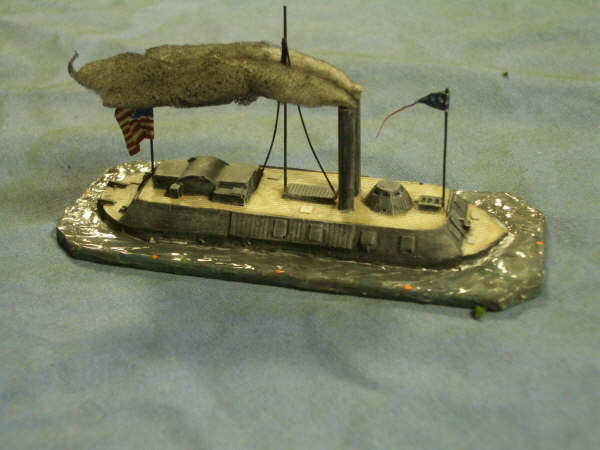 Mississippi River, 1862
30th March 2006,
Comments Off
---
American Civil War Naval , Smoke on the Water,  1/600 scale
    Next up I played an American Civil War naval game, using Smoke on the Water rules. It was set on the Mississippi, and pitted the CSS Arkansas and a small cottonclad ram against two Cairo Classs river ironclads, backed up by the USS Queen of the West. Oh, and the Confederates had a shore battery, which landed up doing most of the damage.
By the end of the night honours were fairly even, with both sides battered and limping. The rules worked pretty well, although we missed out many of the ones we thought might slow the game down, like taking account of the river current, or the chances of suppressing the shore battery through gunfire.
The next game will no doubt be bigger and more complicated, but you have to  learn to play in mud puddles before you can play in the big blue ocean! The "M" at the stern is a speed marker, but we plan to replace those with wake counters – one for slow, two for medium and so on, which will look much cleaner.