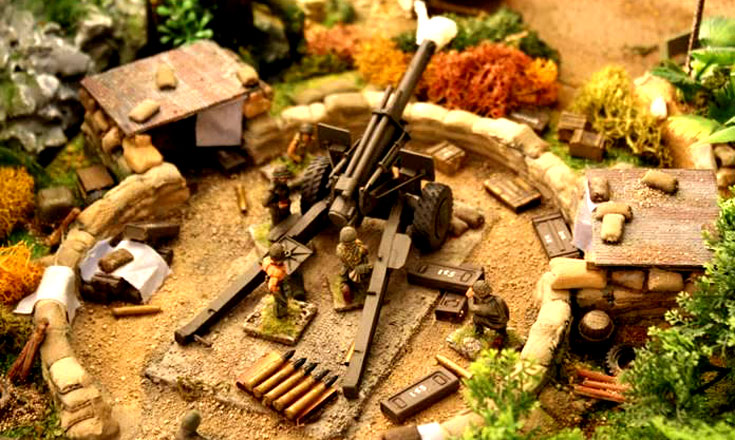 Bas de Feu 5, nr. Hanoi, 1951
---
The Second World War (French Indochina), Homegrown rules, 28mm
As promised, here's another look at Bill Cainan's amazing tabletop setup for the French Indochina War. This time we're focusing on Fire Base 5, part of the De Lattre Lines near Hanoi, in the Red River Basin.This actually looks a lot like an American one from the Vietnam War, which of course is hardly surprising. The guns, the uniforms and the doctrine were pretty much the same – only French flags were flying over the fire base, and the French didn't have quite so much "kit" to hand.
 First of all, an overall view of the firebase, set in the middle of the De Lattre Lines. Nothing shows quite how crazy Bill is than this bustling tabletop! Of course, he can also change it for the Red River, a French airfield, the terrain around Dien Bien Phu – whatever he wants. He must have a storage space the size of an aircraft hanger. Anyway, once you zoom in, you start to notice all the little details of the base. 
There's the main base proper, then a number of outlying gun and mortar pits, plus a ring of defensive works – trenches, wire and watchtowers. That's the main part of the base up above. Below is the command and communications centre that allowed the gunners to direct their fire on the Viet Minh.
Next we've got some of the guns themselves. The French used American 105s and 155s, plus American 120mm and 81mm mortars. The howitzer at the top of this post is a 155, while the one below is a 105.
I particularly like the 120mm mortar pits – something you might actually use on the front line as well as inside a fire base and a fortified line. Of course, Bill's terrain is pretty modular, so when he wants to he can do just that.
The same goes for his defensive works, especially his trenches. You can imagine these seeing service in Dien Bien Phu, or some other godforsaken outpost in the boonies of Indochina. 
Next we have a wider view of the fire base set within the lines, and some more command posts. 
Finally, in this last one Bill is showing a French Corsair flying over the fire base – another piece of American kit painted up and used by the French in Indochina. Bill, of course, has a huge collection of aircraft for the conflict, and is promising to show us them next. That means anything from this Corsair to transport planes, helicopters and ex-Japanese fighters. I look forward to it!